On October 1, 2014 Vermont's "Hands-Free" law will go into effect. The goal is to keep distracting devices out of the hands of busy drivers; but the real question is, how can I use my phone with these new laws in place? Becoming accustomed to talking your own personal HAL will take some time. That being said, there are a number of accessories on the market to conquer this particular problem. I'm going to cover three variations of these hands-free accessories so you can decide which is the right fit for your lifestyle.Similar to switching from buttons on a flip phone to the touchscreen on your iPhone/Android device, the learning curve on your hands-free accessory will be pretty minimal in comparison to other activities you can achieve on a smartphone. Manufacturers are making it easier to pair devices, so fear not! You can pair your device without a nerd present!  If you're afraid a hands-free device is going to break the bank, don't worry, it won't. All of these devices can be purchased for under $50.
Motorola TX550 Bluetooth Car Kit
The Sonic Rider (TX550) is our first Bluetooth-enabled accessory. It's fairly basic with a micro-USB input for recharging, and packaged with a visor clip already attached, making installation a breeze. Motorola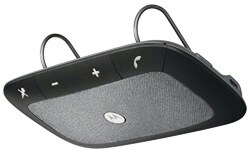 states that the battery life is up to 45 hours of talk time and roughly five months on standby. The package contains a car charger, but best practices are to charge the device overnight before your first use. An LED next to the on/off switch broadcasts the battery's current charge, and voice prompts for pairing your device allow for easy usage of the device out of the box. You can pair two phones simultaneously, making it easy to answer a work and personal phone no matter which one rings. The 2-watt speaker can get very loud, but is not as crisp as I had hoped, even with its noise-cancelling properties. The Motorola Sonic Rider is a solid performer when it comes to battery. The external speaker makes it very easy to use for those seeking minimal interaction with another device, but sound quality leaves something to be desired. Overall I rate it a 7/10.
Kinivo BTC450 Bluetooth Hands-Free Car Kit
Next up is the Kinivo BTC450, which requires an Auxiliary input (AUX) in order to function properly. There are some definite pros to an auxiliary-based bluetooth accessory. The streaming function on most Bluetooth-enabled phones has improved to where the BTC450 can play CD-quality music over yourvehicle's stereo system. You can control playback by pressing one of the two forward and backward buttons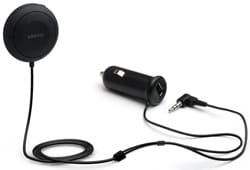 located on the top of the device. The hardware is mounted by a circular adhesive that can be placed on any flat surface; best practices are to mount the device closest to your central media panel close to your auxiliary input. The power adapter comes equipped with a USB input, allowing for charging your wireless device via the appropriate USB cable while it is streaming to your Bluetooth accessory. Pairing on the BTC450 is also quite easy. Upon first use, the accessory is in pairing mode, so you just need to find it on your Bluetooth-enabled phone. The only real downfall I found to this accessory is the cord length, however the device comes with an auxiliary extension cable in case you need a little more cord to make it work properly. Your sound quality is dependant on your car's sound system, so be sure to keep the car running if you're talking on the phone. The BTC450 is a quality accessory and seems to do quite well for its small stature, barring any cord issues you need to overcome. Overall I rate it an 8/10.
IOGEAR Solar Bluetooth Hands-Free Car Kit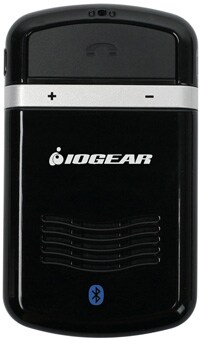 The third and final Bluetooth accessory is the IOGear Solar Car Kit (GBHFK231), aka the IOGear Solar, which has to be the "greenest" Bluetooth accessory out there. This device not only has full wireless capability, but sports a solar panel. I guess I shouldn't be surprised, solar charging has been around for a while now, but putting it into a hands-free Bluetooth accessory possibly redefines the term "wireless". But Cameron, what if the sun isn't out and my device is dead? Well, IOGear thought of that too, equipping the Solar with a rechargeable battery and a micro-USB input for easy recharging. The USB car adapter and micro-USB cable are included, but just in case you have the need to charge something else on the go, the car charger is universal (meaning you can use just about any USB cable). The volume and mute buttons are easy to navigate, and the dual connection to two different phones is also a solid feature. The device sits securely using suction cups connected to a holster that allows for solar recharging during the day. The box also contains another holster that attaches to a visor just in case you visit a state that doesn't allow windshield mounting. The sound quality is very clear; more crisp than the Sonic Rider (TX550), making it an easy win for those looking to go a little more "green" than blue. Pairing the Solar is also quite easy, allowing for quick use out of the box. You need to be a bit more technologically oriented to utilize the dual-phone connection, but the directions are pretty easy to follow even for beginners looking to get the most out of the Solar Car Kit. Overall I rate it an 8/10.
Final Assessment:
As with any decision, there can be pros and cons to each device. If you're looking for hands-free without the hassle, and you're not concerned with overall voice quality, the Motorola Sonic Rider is right up your alley. For those looking to stream music and have access to an auxiliary port, the Kinivo BTC450 is simply the best choice. Lastly, if you're the outdoorsy type, or just want to have a solar-powered Bluetooth accessory, the IOGear Solar is the best device for that reliable recharge in the sun. Thanks for reading, and be sure to go "Hands-Free" on October 1.
Questions? Let us know!